While envisioning your dream kitchen, consider how leveraging tile upgrades can deliver unique customization. Tile installation is a generally cost-effective addition that can revitalize virtually any kitchen. Yet your tile choice should reflect your taste and lifestyle. Consult a professional team that will provide comprehensive details about your options and ensure you love your kitchen renovation design.
Homeowners in Mclean, VA, can look to Monarch Design & Remodeling for all kitchen renovation needs. Our dedicated team delivers the expertise and skills necessary for all interior renovations, not just kitchens. From our initial consultation to post-construction follow-up, we keep you involved every step along the way and guarantee a final product that you love. To learn more about our kitchen renovation services, call (703) 789-3288 today!
Below, we discuss 6 different types of tiles for your kitchen renovation:
1. Ceramic Tiles
Ceramic tiles are a durable and budget-friendly material that can create an excellent tile backsplash. They're available in many shapes and sizes, though subway tiles (longer than tall) frequently appear in kitchens and bathrooms. They and other tile varieties can add visual interest and spark to any space.
2. Glass Tiles
Glass tiles have a clean, "modern" appearance that appeals to homeowners who prefer a minimalist kitchen design. They boast high stain resistance complemented by diverse iridescent colors, but their fragility makes them easy to chip. Therefore, you must keep them out of high-traffic areas. Glass is suitable for a tile backsplash, but avoid using it on the countertops or floors.
3. Marble Tiles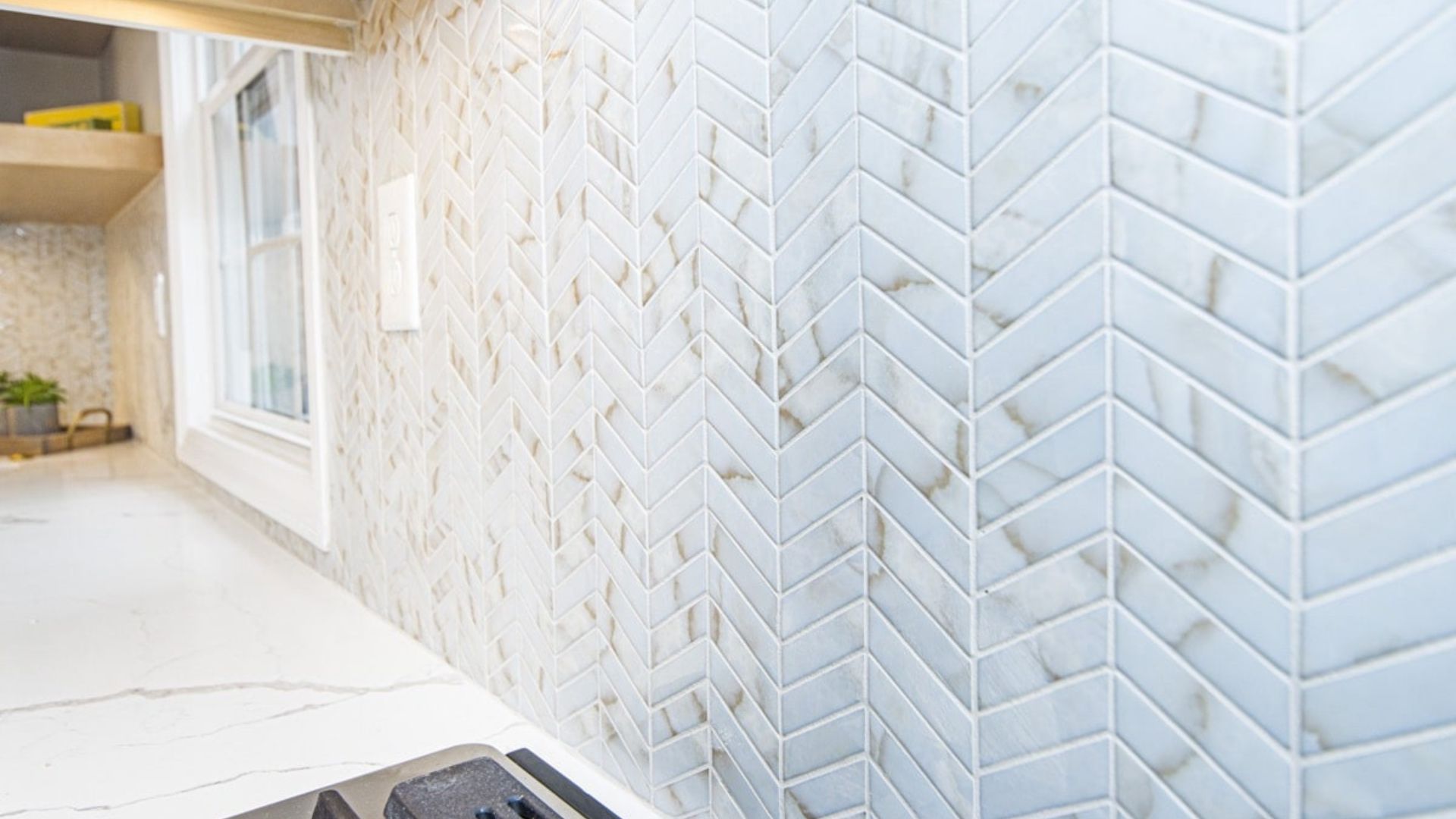 Marble tile's decadence will surely suit homeowners with a luxury kitchen space. This sleek material elevates flooring, counters, and walls to match any design concept. Unfortunately, marble scratches easily and can be damaged by everyday wear and tear. Sealing marble can help improve its stain resistance, but its vulnerability to damage repels some homeowners.
4. Porcelain Tiles
Like ceramic, porcelain tile is both practical and popular. Manufacturers can produce varieties that look like natural stone or even wood. But unlike those materials, porcelain needs little maintenance besides cleaning. This material works well on floors, backsplashes, and countertops because it delivers visual appeal and durability from daily use.
If you're considering porcelain, research the available colors and textures, then choose one that fits your interior style design. Since textured tiles are more difficult to clean, you might look for smooth porcelain tiles that guarantee a mess-friendly kitchen solution.
5. Granite Tiles
Those seeking a natural stone look without the fragility of marble will find granite a suitable option. Granite is less susceptible to scratching and comes in more colors than marble. However, it shares marble's penchant for staining (unless treated with a sealant).
6. Travertine Tiles
Travertine tile is a neutral, subdued stone available in beige, tan, and soft gray shades. It often has a weathered and rustic appearance that fits with farmhouse-themed kitchens and country decor. Travertine has average durability if used on the floor, though it works best in low-traffic areas. It can also make a great tile backsplash!
Kitchen Renovation Professionals in Mclean, VA!
The great variety of tiles makes choosing one a difficult decision. Yet Monarch's experts can help your upcoming kitchen renovation achieve the results you have in mind. Monarch Design & Remodeling provides professional services to residents of Mclean, VA, that guide them through all available options to make their vision a reality. Call (703) 789-3288 to get started on your next kitchen makeover, or visit us online for a free project estimate!