How can you create a luxury kitchen that looks and operates at the cutting edge of kitchen design? Such kitchens boast high-end appliances, custom cabinetry, premium materials, a maximal layout, and high-tech features. To incorporate all these elements, turn to an independent kitchen designer who can create a space that matches your lifestyle and your home.
Monarch Design & Remodeling offers professional kitchen design services in Tysons, VA. We believe that home design should reflect your style and match your ambitions. With Monarch, you'll be involved with each step of the design process to ensure the final product matches your vision. Contact us at (703) 789-3288 to get a free quote!
Below, we outline how to design a luxury kitchen:
High-End Appliances
What distinguishes high-end appliances from their ordinary counterparts? Two things: their luxury appearance and premier functionality. Culinary classicists can invest in an oversized, footed range that offers additional cook-tops beyond the everyday models. High-end dishwashers provide ultra-quiet options with customizable front panels. Plus, beverage fridges add elegance and high-grade capacity to your dynamic space.
Custom Cabinetry
Seek out a cabinet builder who can accommodate your functional and stylistic preferences with a custom kitchen cabinet design. Effective cabinet design can conceal countertop appliances, such as coffee machines and standing mixers, with built-in storage lifts. These allow you to pull out your appliances for use while they remain plugged into hidden outlets. Customizable cabinet panels can conceal mid-sized appliances, such as dishwashers and microwaves, so they blend in seamlessly.
Moreover, pull-out pantry drawers offer accessible, organized storage for miscellaneous food items. You might also install pull-out drawers for your garbage, recycling, and compost bins.
Premium Materials
Premium materials can elevate your kitchen's style. We suggest using a raw material—such as marble or granite—for countertops. Also, choose from several wood colors and grains to complement your overall design. Then, incorporate a custom tile backsplash to serve as a unique focal point.
Maximal Layout
In high-profile kitchens, bigger is better but double is best. So, double your kitchen island's size and add a double sink. A butler's pantry can provide a reprieve for everyday kitchen tasks and supplies. Consider installing a second oven and extra storage for maximum efficiency—perfect for entertaining.
High-Tech Features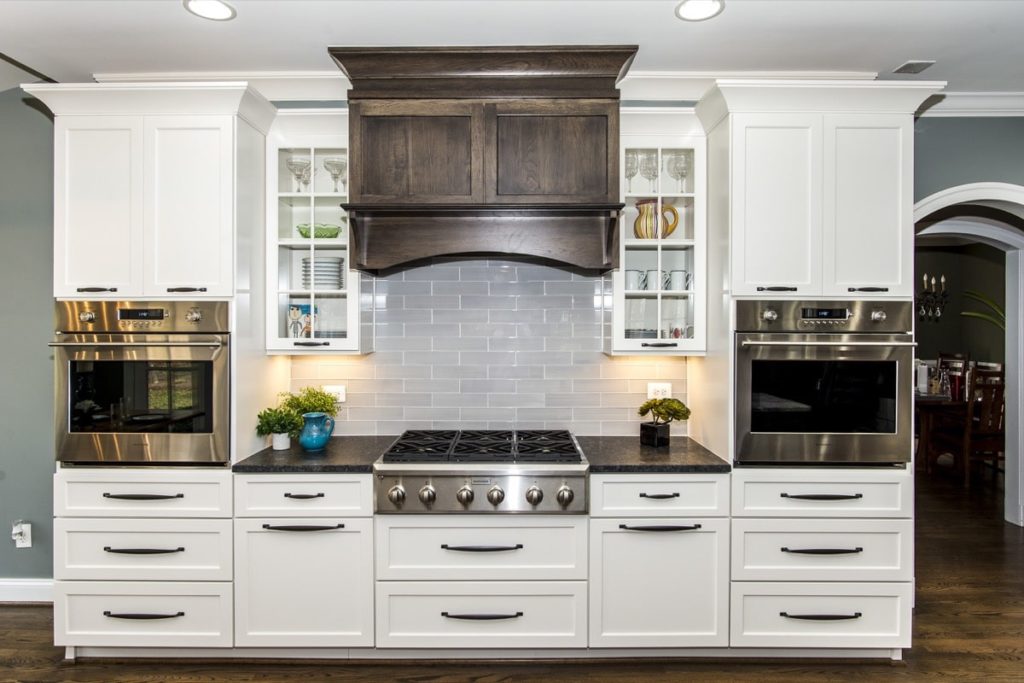 Advanced kitchen features can also make your life easier! Start with a Smart fridge, your new virtual assistant. These refrigerators keep an inventory of their contents, so you don't have to! Plus, you can control their features with Alexa, Google Home, or other smart devices like your phone.
Touchless faucets simplify cleanup and minimize water use with their on-demand operation. Furthermore, they make handling raw foods simpler and more sanitary.
Finally, induction cooktops provide safety and energy efficiency with their enhanced design. Using electromagnetic induction, they can heat a pan while their surfaces remain cool.
Monarch Design & Remodeling: Independent Kitchen Designer in Tysons, VA
Look no further than Monarch Design & Remodeling as your independent kitchen designer in Tysons, VA. Our founder and lead designer, Gina Simpson, has more than 20 years of design experience. Furthermore, our craftsmen bring each kitchen design layout to life with careful attention to detail. We look forward to providing you with a space that better enables your lifestyle! Contact us today at (703) 789-3288 to schedule a consultation.