To cut costs and avoid move-in delays, many new homeowners leave basements unfinished, intending to renovate later. However, the extensive possibilities may overwhelm and paralyze the decision-making process. An experienced basement remodeling company can help generate ideas, put together designs, and identify the best way to leverage the unoccupied area. For instance, a hosting and entertainment space, home gym, apartment, or another avenue could fulfill your need and increase your home's value. Contact a basement remodeling services provider to determine an ideal path forward!
McLean, VA, residents can turn to Monarch Design & Remodeling for all their renovation and remodeling needs. Our team, led by founder and chief designer Gina Simpson, seeks to deliver projects tailored to clients' tastes. The spaces we create are beautiful yet functional and completed on time and within budget. Previous clients rave about our work and services! Call (703) 789-3288 or visit our website to speak with our basement renovation contractors.
Below, we outline our best basement remodeling ideas:
1. Hosting & Entertainment Space
While it may be dark and messy currently, a finished basement could add great financial value to your home as an area to entertain guests. Still, achieving this outcome demands the right design. Successful hosting will entail ample room to mingle and chat, plentiful seating, a flat-screen TV, and a well-stocked bar. Homeowners on a budget or with limited space can still adapt their basements using impactful features: accent walls or ceilings, abundant lighting, and storage (even a wine cellar!) beneath the stairs.
2. Home Gym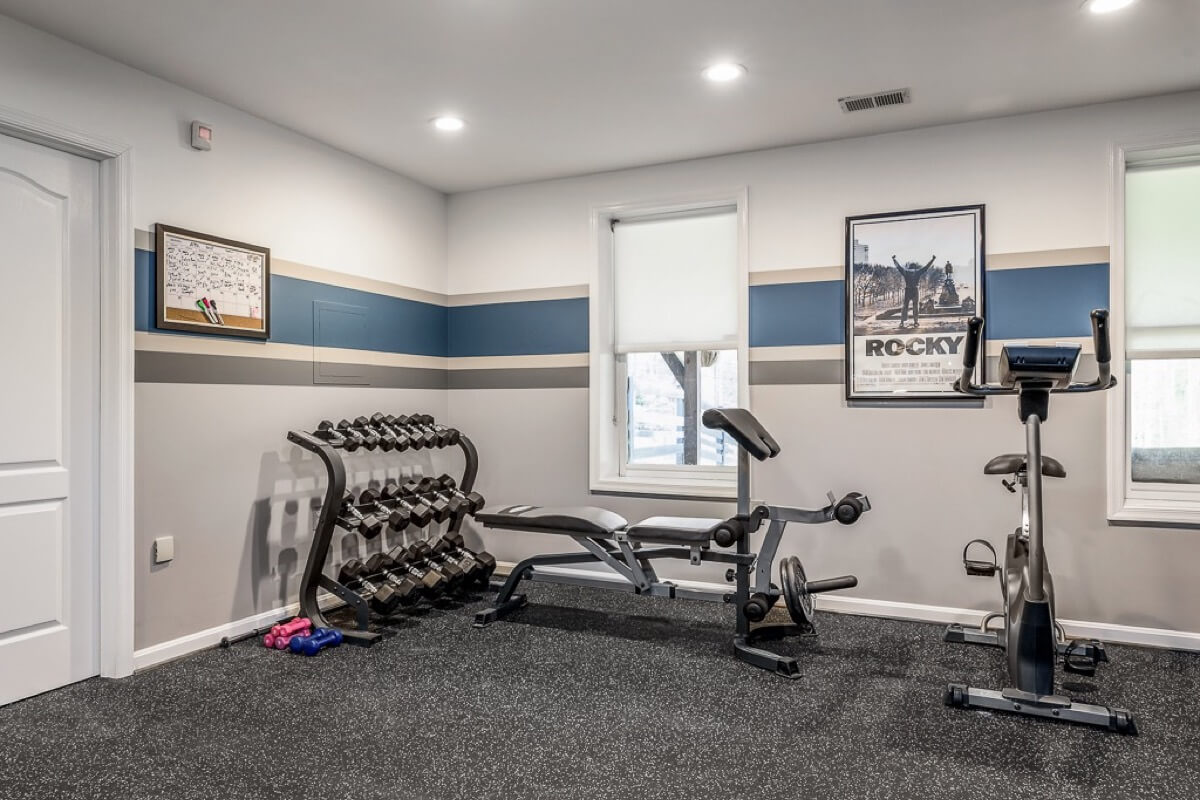 A family and a full-time job can sap the time or energy necessary to drive to the gym. So, move the gym into your home! A remodeling team can complete the space with suitable lighting and spare decorations, maximizing utility. Then, you stock the equipment: barbells, dumbbells, elliptical, treadmill, yoga mats, and more! With sufficient room, you might even include a small laundry room or bathroom with a shower.
3. Apartment
If you already have a furnished living space, creating another in your basement may seem ridiculous. However, a separate apartment in your home is among the most versatile uses of a basement. You can rent it out for passive income (especially around tourist-heavy areas), offer it to guests staying overnight or over a week, house an aging family member, or use it yourself while renovating other parts of your home.
The extra living and utility area boosts your home's value and requires no expansive, open space. A small basement remodel can feel cozy with plenty of lighting, appropriate stylistic touches, and warm paint colors.
4. Home Office
Even though quarantine and stay-at-home orders have long expired, many professionals continue working from home part- or full-time. Yet doing so requires a quiet and committed space, which comes at a premium in many homes. Fitting your unfinished basement out with carpeting, shelving, and a suitable desk can circumvent this issue and establish a quiet area for you to focus.
5. Kids' Playroom
Finally, families with infants or young children could turn their basement space into a playroom. Doing so could go a long way toward keeping your home clean, as a playroom is a storehouse for all toys and art projects. Children then have a place to go and burn off energy; plus, the playroom can host sleepover parties and give parents peace of mind that their children are safe and inside.
A playroom is cost-effective because it only needs durable flooring and ample open space. Nevertheless, you could incorporate a half-bathroom and extra storage space for toys and games.
A Reliable Basement Remodeling Company Operating in McLean, VA!
No matter your budget or plans, turn to Monarch Design & Remodeling for your home renovation projects. As one of the best basement remodeling companies in McLean, VA, Monarch aims to deliver top-notch designs and practical solutions for all our clients. Our satisfied customers speak for themselves when they discuss how our team helped reinvigorate their homes! Get a free consultation for your basement project by calling (703) 789-3288 or visiting our website.