Transforming your basement can increase your home's value as well as increase its functionality and accessibility. Nevertheless, depending on your desired project, such renovations can become expensive. Homeowners who wish to renovate their basements without breaking their budgets should consider incorporating an accent wall, sprucing up their staircase, and other cost-friendly ideas. A basement renovation contractor can implement these ideas and more to make your basement a usable and beautiful room in your home.
Whether you want to finish your basement bathroom or update the space's lighting, look no further than Monarch Design & Remodeling. We specialize in bathroom, basement, and kitchen remodeling for Ashburn, VA, residents. Homeowners can rely on our home improvement services to transform their interiors. To learn more about our basement renovation services, contact us online or call (703) 789-3288 today.
Below, we highlight some economical routes to transforming your basement:
Incorporate an Accent Wall/Ceiling
First, try getting creative and incorporating the accent wall you've always imagined! Focusing on one wall instead of all four can save you money. Plus, this approach creates a stand-out feature that becomes the center of attention in your basement.
A unique ceiling design offers an intriguing twist on the accent wall idea. Whether you want to incorporate wooden slats or textured panels, our designers can help you make it stand out and complete the room.
Add Lighting
Optimized room lighting helps unify all interior elements to transform a drab basement into a soothing atmosphere. Homeowners whose basements lack a lot of natural light or have low ceilings can amp up their lighting fixtures to improve the basement's overall look and feel.
Furthermore, speak to your design team about incorporating wall sconces, lamps, or string lights. Yet avoid hanging fixtures like pendant lights if your ceiling is too low. Recessed lighting accommodates low ceilings with inconspicuous fixtures.
Include Storage Options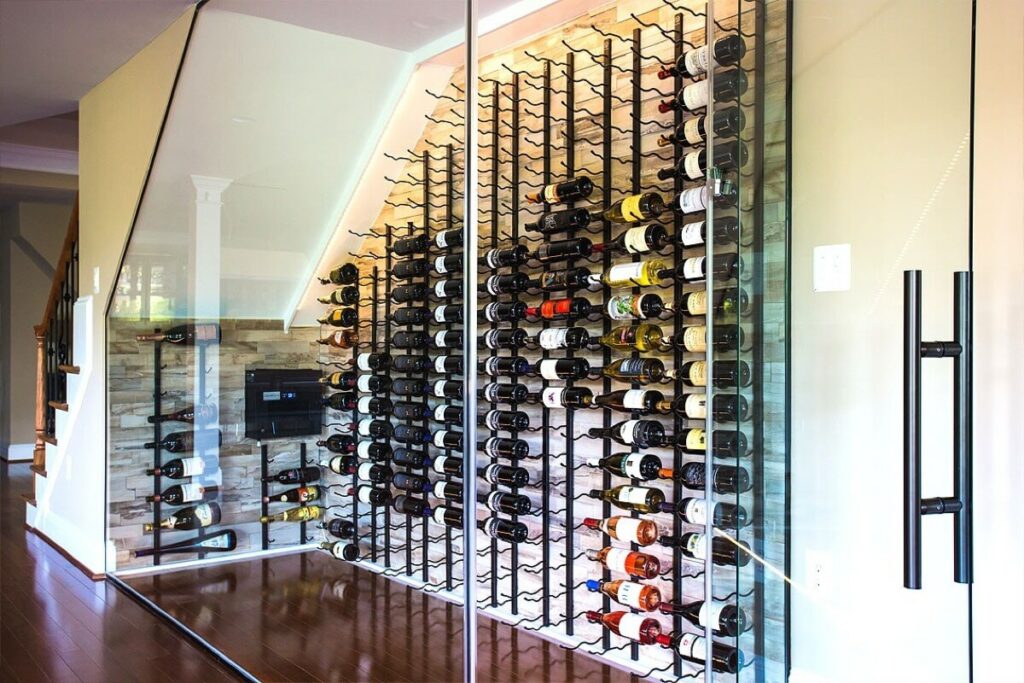 Just because homeowners often use basements as excess storage space does not mean those areas can't be appealing, organized, and functional. Unfinished basements often become cluttered repositories, but you can leverage wall space by installing shelving or storage cabinets. Invest in storage bins or containers to keep items organized.
A basement renovation professional can install storage options throughout your basement. Installing shelves under your stairs or hanging organizers on the walls ensures you incorporate every surface appropriately.
Customize Your Staircase
Amateur designers often overlook staircases. Yet a statement stairwell is a viable basement renovation option, even for those on a budget. Style yours with beautiful slats, balusters, railings, carpeting, and paint colors.
Utilize the space underneath your basement stairs for storage, an office, or even a reading nook. The vision for your furnished basement is yours—all you need is a reputable basement renovation contractor to check everything off your basement finishing checklist.
Basement Renovations on a Budget in Ashburn, VA
Monarch Design & Remodeling offers extensive basement renovation services for homeowners in and around Ashburn, VA. Our project process involves evaluating your space's conditions and creating a comprehensive, personalized design you love. Our years of industry experience ensure outstanding customer service and top-notch results. To learn more about how to transform your basement on a budget, call us at (703) 789-3288 today.