A bathroom renovation can increase a house's value and utility, reinvigorate its interior design, and adapt it to occupants' needs. But to achieve such outcomes, you must implement the upgrades—low-flow water fixtures, increased natural light, and more—relevant to your home. To ensure these adjustments deliver the best possible benefits, turn to the home bathroom design experts at Monarch Design & Remodeling.
Oakton, VA, residents turn to Monarch for beautiful yet functional designs and spaces. We specialize in kitchen, bathroom, and basement remodeling as well as interior decorating and mudroom design. Led by chief designer Gina Simpson, our team constantly strives to improve the spaces where our clients live and work. Indeed, our approach emphasizes the needs and concerns of clients to ensure that they receive the best value for their money. To learn more about our project process, call us at (703) 789-3288.
Below, we describe the potential advantages of bathroom remodeling and the finest upgrades you can adopt in your home:
Should You Renovate Your Bathroom?
While determining what changes you want, establish why you want bathroom renovations. Our team believes these considerations go hand-in-hand, and upgrades deliver the highest satisfaction when they fulfill specific needs or desires. Some folks renovate to increase their home's financial value before it hits the market. Others want to make their homes more useful or attractive for themselves and their family.
Between these motivations, specific remodeling projects aim to:
Make a small space appear or feel larger

Update malfunctioning or out-of-date appliances

Align the bathroom's design with that of other rooms

Increase the functionality and comfort of the space
Explore our bathroom project portfolio for inspiration and potential adjustments.
Our Recommended Bathroom Upgrades
Try a Hidden-Tank or Low-Flow Toilet…


Anyone who wants to improve their appliances' appearance or reduce their environmental impact should investigate hidden-tank and

low-flow toilets

. Such models disrupt the precedent created by conventional, bulky toilets that use more water than any other fixture in the average American home.





Hidden-tank designs shift the water vessel inside a nearby wall, saving space and creating a sleek bathroom appearance. Low-flow toilet models employ gravity to reduce water usage per flush, cutting down a home's water bills and increasing its value.

… or a Low-Flow Showerhead


Similar to eco-friendly toilets,

low-flow showerheads

reduce water waste to save homeowners money on utility bills. Although early designs suffered from low water pressure, more recent ones have adapted and corrected this issue.

Utilize Small, Textured Tiles for the Shower Floor


If you want to ditch outdated or moldy bathroom tiling, replace it with small, textured tiles on your shower floor. No matter what tile you use on the shower walls, the flooring's texture will help anyone using the shower to remain balanced. Moreover, modern tiles use grout that resists mold growth and facilitates easy cleaning.

Include a Window in the Shower


Another way to combat mold growth is adding a window in your shower. Cracking it open allows humidity to escape and ventilates the room. The portal also allows in natural light, which can

improve the color temperature and mood of small bathroom spaces

.

Add a Recessed Medicine Cabinet


While they may seem old-fashioned, recessed medicine cabinets provide inconspicuous places to store skin and dental products. This invaluable storage area works wonders in small bathrooms with limited countertop availability.

Have a 2-Inch Drain Pipe Installed


A leaking fixture is one of the surest

signs you need a bathroom update

. If you plan to upgrade your sink during remodeling, take the opportunity to install a 2-inch drain pipe. This adjustment adds a half-inch to the standard drain size to prevent clogs and improve drainage. It also costs nearly the same price as "standard" drains.

Choose Neutral Fixtures
If you swap out the bathroom tub or sink, you'll need to choose new fixtures as replacements. Although bold design and color options exist, stick with neutral ones. Interior design styles come and go quickly, and investing in a risky design choice may leave you with an expensive, out-of-date fixture. You can use inexpensive features for bold touches.
Incorporate Ample Storage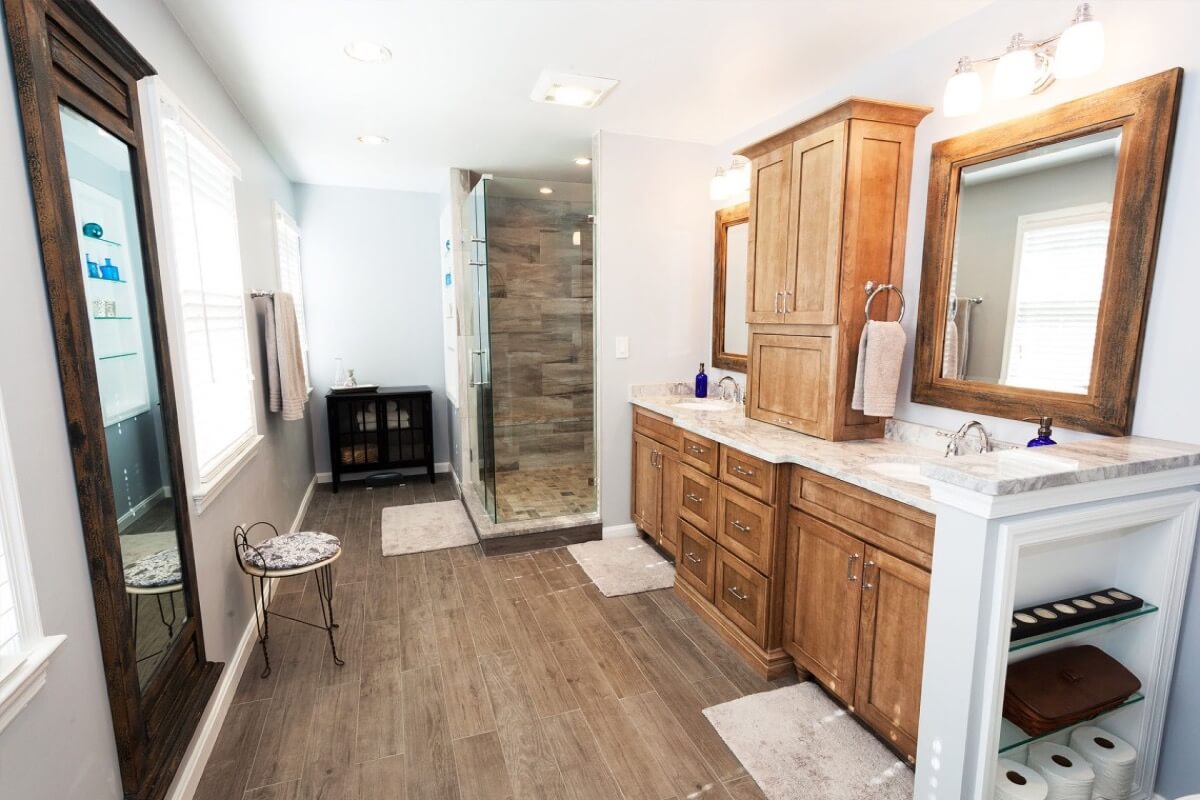 One of the most common mistakes during bathroom renovations is neglecting storage space. No matter how you adjust your room's design, rest assured that you'll use all the storage space available. A recessed mirror will help with this effort, but you should incorporate cabinets, drawers, and shelves to complement it. The storage should accommodate your daily use of the bathroom and prevent clutter from accumulating.
Bathroom Design Services Available Now for Oakton, VA, Residents!
No matter the scope of your bathroom design and remodeling project, turn to Monarch Design & Remodeling for expert guidance and services. Our team works with homeowners in and around Oakton, VA, to turn the properties into cozy yet functional spaces. Previous clients have lauded the results of our work and how it transformed their homes. Now, it's your turn: get a free project consultation by visiting our website or calling (703) 789-3288.