It's easy to overlook the basement as a renovation project to boost your home's value. Still, consider the value of a comfortable basement, outfitted with gadgets, for hosting guests. Moreover, a professional basement renovation can become a fun and invigorating project when incorporating the latest trends, such as wooden elements, open-concept design, and arched shelving. With the help of a design and remodeling company, you can turn your basement into a place you'll cherish for years.
Monarch Design & Remodeling offers basement renovation services and more to homeowners in the Chantilly, VA, area. Our team, led by designer Gina Simpson, strives to create unique and gorgeous spaces for our clients. We've brought the renovation dreams of our previous clients to life; let's do the same for your newest project. Call us at (703) 789-3288 or visit our website to get a free project quote today.
Below, we highlight 6 of the latest basement renovation design trends:
1. Wooden Elements
The shift towards mid-century modern furniture has resulted in more and more people adding wood to their home interiors. Within dark basements, wooden elements act as natural highlights. They can make a room feel cozy and stylized.
Moreover, adding wooden beams to your basement ceiling boosts visual contrast. Environmentally conscious focus who want sustainable practices can use reclaimed wood for their purposes.
2. Open-Concept Space
An open concept is ideal for making a basement appear spacious. Achieving this look requires the removal of your basement's dividing walls, thereby reducing clutter. Spaciousness helps the area feel inviting, which makes it a perfect environment for large gatherings.
3. Arched Shelving
Integrated furniture has become popular in recent years. These pieces increase your storage space and enhance your space's aesthetic. They also open up a room and offer spots to incorporate knick-knacks like books, puzzles, and pottery.
Arched shelving, in particular, allows you to incorporate some architectural elements into your basement. Monarch Design & Remodeling specializes in basement renovation that synthesizes comfortable living with fashionable taste.
4. Textured Walls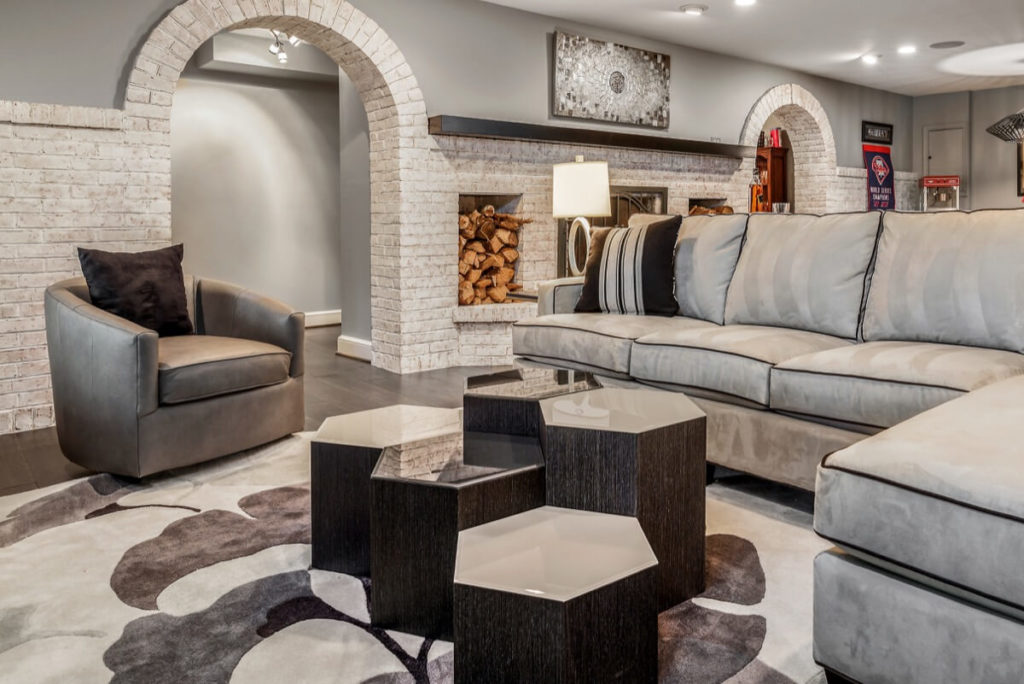 Designing the walls of a basement may seem more trouble than it's worth. However, textured walls enhance the look and feel of your basement. You might consider:
Textured wall panels

False brick walls

Stone walls
Covering walls with wooden slats can also add natural highlights to your basement and draw visitors' eyes to the unique pattern. A simple addition can transform the look of your basement.
5. Staircases
Impress your guests before they even see the basement with a gorgeous staircase. Whether it be a glass wall that allows natural light to come through, a curved staircase with bold colors to attract the eye, or balusters extending to the ceiling for a dramatic effect, your staircase can make a bold statement.
6. Multi-Height Ceilings
White suspended tiles on a basement ceiling are a simple option—but what if you could add style to your finished basement? Wooden, colored, or even plastic tiles at different heights can add depth to your basement ceiling. Multi-height ceilings add to the sense of spaciousness that open-concept designs create.
Your Basement Renovation Experts in Chantilly, VA!
Basement renovation can be versatile and can even increase your home's value. Moreover, it represents a worthwhile investment that will benefit you and your home. Monarch's team of experts helps homeowners in Chantilly, VA, transform drab spaces into the basements of their dreams. Call us at (703) 789-3288 or visit our website to get a free renovation quote!