The beginning stages of a basement remodel involve careful planning and preparation. Whether you've set your goals, budget, and time window or not, you should search thoroughly for a basement remodeling contractor. Indeed, a well-rounded contractor can help you hash out such items as project goals and budget. But what distinguishes a good contractor, and how do you decide on one? Find a basement renovation contractor with fair estimates, good reviews, quality work, and more.
A home renovation company serving homeowners in and around Vienna, VA, Monarch Design & Remodeling offers kitchen, bathroom, and basement remodeling in addition to interior decorating and mudroom design. Our professional team has years of experience providing outstanding work and customer service. Make your dream home a reality with Monarch: call us today at (703) 789-3288.
Below, we go over what a quality basement remodeling contractor should offer:
Fair Estimates
First, determine the average market price of your renovation project and then decide on your price range. For instance, the average cost of a basement makeover is about $20,000. Based on that and what you'd like to accomplish, choose a budget you're willing to pay. Then, find a contractor willing to work within your budget. Consider meeting with them to hash out whether you should increase your budget or narrow down your deliverables.
Also, ascertain how long your type of renovation project usually takes and then figure out how much time you have for yours. Compare the time estimates provided by several contractors with some online research. Remember that projects often run into unforeseen obstacles, so account for about 20-50% longer than you'd expect.
Good Reviews & Previous Work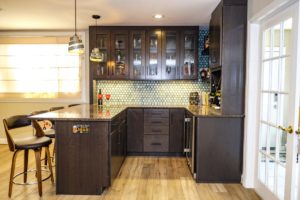 Next, pay attention to what previous customers have to say. Internet reviews and ratings can give you an inside look at how a contractor operates. Also, take the time to browse through images of their prior work. You should ensure you like their previous work and are confident they can achieve your vision.
License & Insurance
Then, check for the necessary licenses and insurance. Contractors should have "general liability" and "workers' compensation" insurance, in particular. While an unlicensed contractor may offer lower prices than licensed ones, they expose you to far more financial risk. Licensure also helps verify a contractor's quality, professionalism, and proficiency.
Communication & Professionalism
Finally, given the potential duration of the project, ensure you get along with the service provider. They should communicate with you frequently and effectively. Working with an inconsiderate or uncommunicative contractor can be a nightmare. Use your gut. You should be able to tell if a contractor makes you a priority and has your interests at heart.
The Best Design & Remodeling Company for Basement Renovations in Vienna, VA
Monarch Design provides expert basement renovation services for homeowners in the Vienna, VA, area. Our design process includes consultations wherein we work with you on your vision. We use state-of-the-art virtual design consulting to illustrate modern basement ideas and bring your ideas to life. Trust our team to create, transform, and revive your space. Get a free consultation at (703) 789-3288.