If your home lacks a mudroom and constantly feels cluttered, seize the opportunity to design and create something ambitious. A closet, cabinet, bench, and other belongings can transform into a mudroom and entryway organizer. Moreover, you can rely on the mudroom design experts at Monarch Design & Remodeling.
A home remodeling company working in Oakton, VA, Monarch's team can handle mudrooms, kitchens, bathrooms, basements, and more. We make it our mission to improve the homes and lives of homeowners by providing new, gorgeous, and functional spaces. Indeed, our project process builds attention to detail and client input into our work. Learn more on our website or call us at (703) 789-3288.
Below, we discuss ideas for incorporating a mudroom into your home:
Closets, Spandrels, & Carve-Outs
Closets offer the best potential of all options for incorporating a mudroom, as they tend to operate as multipurpose spaces near entryways already. A mini mudroom can inject your junk-filled closet with new life and purpose. Add a row of hooks, a built-in or freestanding bench, and shelves for baskets or boxes.
Likewise, the space beneath your stairs—also called a spandrel—offers the same opportunities given enough space. Nevertheless, you may find it surprising just how small of a space can become a functional one. Doing so requires just creativity and proper planning.
If your home lacks a closet or spandrel space, you may have to create a carve-out for the mudroom of your dreams. This option involves a pleasing and functional combination of cabinets, a bench, and cubbies or drawers. Speak to our designers for more details.
Cabinets, Bookcases, & Hutches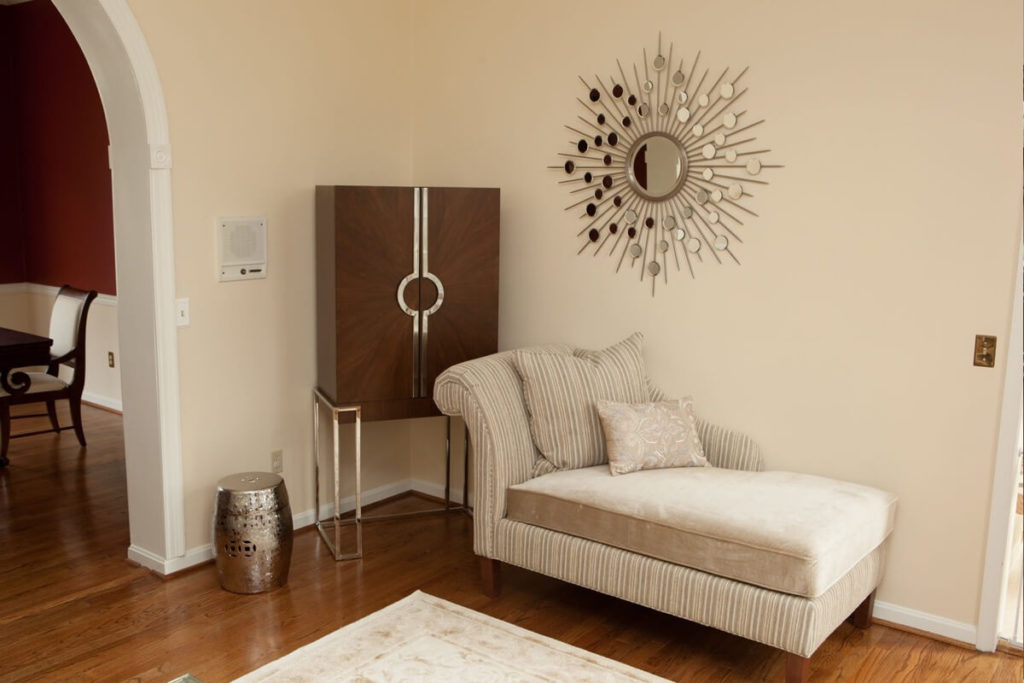 Although mudrooms are traditionally small rooms, nothing says they have to be. Indeed, despite their name, mudrooms need not be rooms at all! Monarch can convert a built-in cabinet into space for coats, jackets, shoes, umbrellas, and more with a few hooks and partitions. Plus, this option allows you to hide everything behind closed doors!
Tall bookcases can serve a similar function. Bookcases may become a wall of "lockers" with the addition of doors, numbers, and nameplates. Alternatively, you could put a basket in shelf spaces and label them. Doing so is a great way to keep your entryway organized, especially with kids!
No space for cabinets or bookcases? The upper portion of a two-piece hutch could be the answer. We'll make it your style, add some hooks, and mount it to the wall. This organizer works well for keys, jackets, umbrellas, and bags.
Benches, Dressers, & Shoe Racks
A bench could be made into a useful storage bench by your front door. Storage benches may feature a hinged seat with nifty storage space beneath. Stash your rain gear, backpacks, and other clutter lingering around your entryway!
Even an old dresser could turn or a shoe rack can serve as an entryway organizer. Despite their small size, shoe racks make a big impact. Shoes are the most common mudroom occupants and take up a majority of space in many homes' entryways. This makes shoe racks very helpful, especially for a no-shoes-indoors household!
Get Your Oakton, VA, Mudroom Designed and Built by Experts!
With some useful ideas on how to incorporate a mudroom into your home, reach out to remodeling experts. Monarch Design & Remodeling offers professional mudroom design and more to residents in and around Oakton, VA. We're not afraid to think outside the box and create the perfect solution for your space. Get a free consultation online or by calling (703) 789-3288 today!