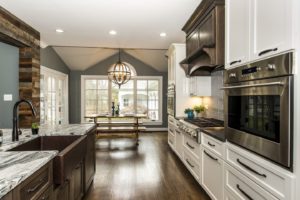 There's no doubting that your kitchen is the heart of your house. Much of our time is spent in our kitchens everyday day; it is also a wonderful place to spend quality time with family and relax after a long day. However, outdated clunky kitchen spaces make it difficult to cook even simple meals and to enjoy family time.
A Kitchen Facelift is a great way to update your kitchen without having to do a complete renovation. It can be as simple as painting the walls or cabinets, or adding new hardware. If your budget allows, you can also add new appliances or countertops. A Kitchen Facelift is a great way to improve the look and feel of your kitchen without spending a lot of money. And, it can be done in just a few weekends. So, if your kitchen is looking tired and dated, consider a Kitchen Facelift. It's a great way to give your kitchen a fresh, new look.
KITCHEN REMODELING PROCESS
We're here for you from start to finish. We offer a detailed and successful design process so your kitchen remodel will be nothing but smooth sailing!
Monarch Design and Remodeling offers a dedicated team to help you achieve your design goals. Our experienced professionals provide effective solutions through their knowledge of the industry, including an architect who can offer CAD drawings for 3D modeling or renderings depending on what's needed in order build lasting relationships with our clients!
KITCHEN REMODELING AT MONARCH DESIGN AND REMODELING
Looking to give your kitchen a much-needed facelift? At Monarch Design and Remodeling, we specialize in creating beautiful and functional kitchen spaces that are sure to impress. Our team of highly skilled designers and builders will work closely with you throughout the entire process, ensuring that your vision is seamlessly brought to life. Whether you're looking for modern updates, traditional charm, or something else altogether, we can help. So what are you waiting for? Give your kitchen the upgrade it deserves with Kitchen Facelift from Monarch Design and Remodeling!