Those who wish to live independently in their home during old age or house a senior loved one must prioritize bathroom accessibility. This consideration entails that individuals requiring accommodations for mobility or daily tasks can use a space with relative ease and comfort. Since their use and navigation are fundamental to daily life, bathrooms are often a focus for accessibility. A professional remodeling team can create a custom bathroom design to fit such needs by modifying entry points, adjusting physical dimensions, and implementing changes to your fixtures to increase accessibility.
Monarch Design & Remodeling can increase the efficiency of your home improvement process and deliver high-quality outcomes. Our design team believes everyone's living space should reflect their taste and lifestyle. Homeowners in Vienna, VA, can rely on Monarch for kitchen remodeling, bathroom design, and more. We deliver stunning yet functional results in a timely and cost-effective manner. To learn more about our custom bathroom design services, call (703) 789-3288 today.
Below, we discuss 4 ways to increase your bathroom layout's accessibility:
1. Modify Entry Points
Bathroom entry points may need enlargement to accommodate a wheelchair or other assistive devices. Indeed, handicap-accessible doorways are usually 32-36 inches wide to ensure wheelchairs can fit through them. Make sure to account for hallways when modifying the entry point to a bathroom, as turning a wheelchair during entry requires extra space.
2. Room Dimensions and Use of Space
An accessible bathroom should provide ample space and clearance for individuals and assistive devices—including wheelchairs, walking canes, and scooters—to maneuver. Therefore, consider this need in planning your bathroom's total area and regions of heavy use.
Reference the Americans With Disabilities Act's detailed guidelines for creating accessible bathrooms to ensure your design decisions align with their suggestions. Also, ensure the bathroom floor is flat and free of obstructions.
3. Toilet Area Considerations
Per the common practices of wheelchair accommodations, your bathroom should include ample space on all sides of the toilet. After all, individuals with limited mobility may require personal assistance to get in and out of their wheelchairs as well as on and off the toilet. Furthermore, have its seat set to prevent injuries or discomfort. A remodeling team can easily adjust its height to a "comfortable" level.
Many homeowners also incorporate bidet and flush controls to facilitate functional needs for those with limited mobility. A remodeling team can support this effort as well.
4. Sink and Shower Adjustments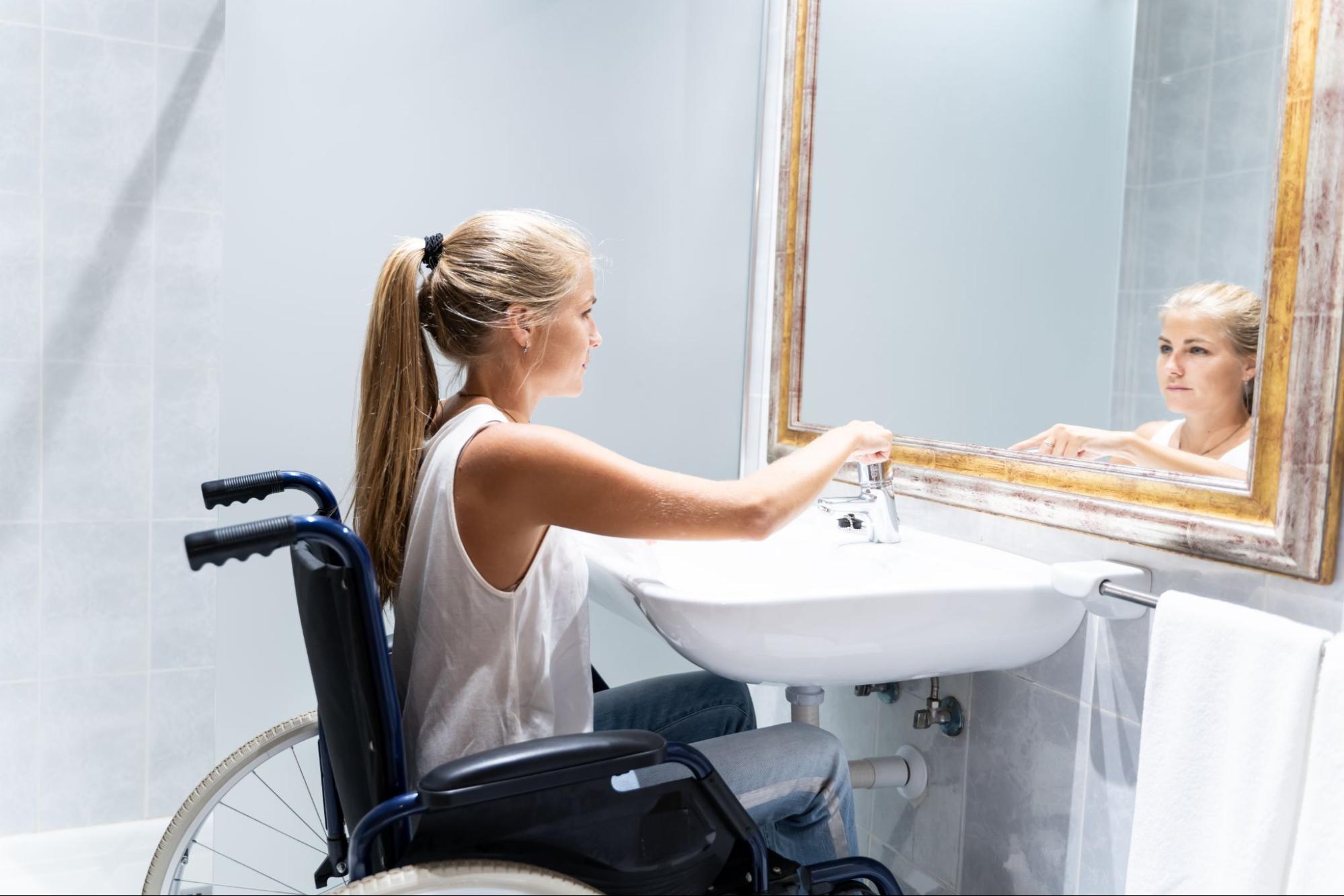 A slanted or pedestal sink is ideal for those who require a wheelchair. Nevertheless, you can still create an accessible bathroom with another model as long as you refrain from placing objects directly beneath the sink.
Moreover, several features can increase your sink's accessibility. For instance, a long-handled faucet makes it easier to turn on the water. An angled mirror above the sink can accommodate wheelchair users. And storage space placed low to the ground will be convenient for wheelchair users to reach.
Accessible bathrooms often include a shower instead of a bathtub to optimize safety and comfort. The former can furnish space for a caregiver to assist with daily care. Ensure the floor is flat and the entry wide, then consider incorporating a fold-down bench or stool.
Custom Bathroom Design and Remodeling Services in Vienna, VA
Monarch's design and remodeling team can help make your bathroom space accessible for all users. Indeed, our custom bathroom design solutions will exceed your expectations for quality and efficiency. Monarch also offers kitchen, bathroom, and basement remodeling as well as interior decorating and mudroom design in Vienna, VA. Call (703) 789-3288 to discuss the cost of a bathroom remodeling project.