The space under the stairs is often the most overlooked area of a house, most likely used for storing miscellaneous items and trinkets that occupants don't have the heart to throw away. However, you can make it more than the place where you shove those old coats and umbrellas. The space underneath your stairs has real potential, and hiring a basement remodeling contractor can transform that dusty storage area into something special for your home.
Monarch Design & Remodeling is a group of dedicated professionals that help homeowners in Falls Church, VA, realize their home's true potential. Our founder and chief designer, Gina Simpson, has over 20 years of experience in whole-house design and construction experience under her belt. If you're looking for someone to trust with your home remodel, put your faith in Monarch Design and our comprehensive remodeling services. Reach out online or call us at (703) 789-3288 for your free consultation.
Below, we discuss ideas for repurposing the space under your stairs:
Create a Wine Cellar
You don't necessarily need a conventional "cellar" to install a wine cellar in your home. If you consider yourself a wine connoisseur, turn that small space beneath your stairs into a wonderful display to show off your cabernet collection. There are several ways to create the perfect wine cellar for your home, and Monarch Design knows how to get creative with the space available.
Fit in a Loveseat
Though it may be tempting to shove all the knick-knacks you can into your home's corners and small spaces, you can put those areas to better use. Rather than cramming bins and boxes beneath your staircase, why not opt for a small loveseat instead? The extra seating might offer a snug spot to relax, and having more places to sit gives you a better opportunity to host more people.
Add a Bookcase
Bookworms tend to run out of space for all their books. Yet adding a bookcase under your stairs gives you not only an additional storage area but also a cozy corner. Pair the bookcase with a small, cushioned bench or chair to create a small reading nook.
Hide Your Washer and Dryer
If you don't have a designated spot for your washer and dryer or dislike how yours are situated, consider moving them under your stairs. These bulky appliances can take up a lot of space, so placing them in an unused area allows quick access and an aesthetically pleasing home. With some rewiring, the space below your stairs could turn into a modest laundry room.
Set up a Home Office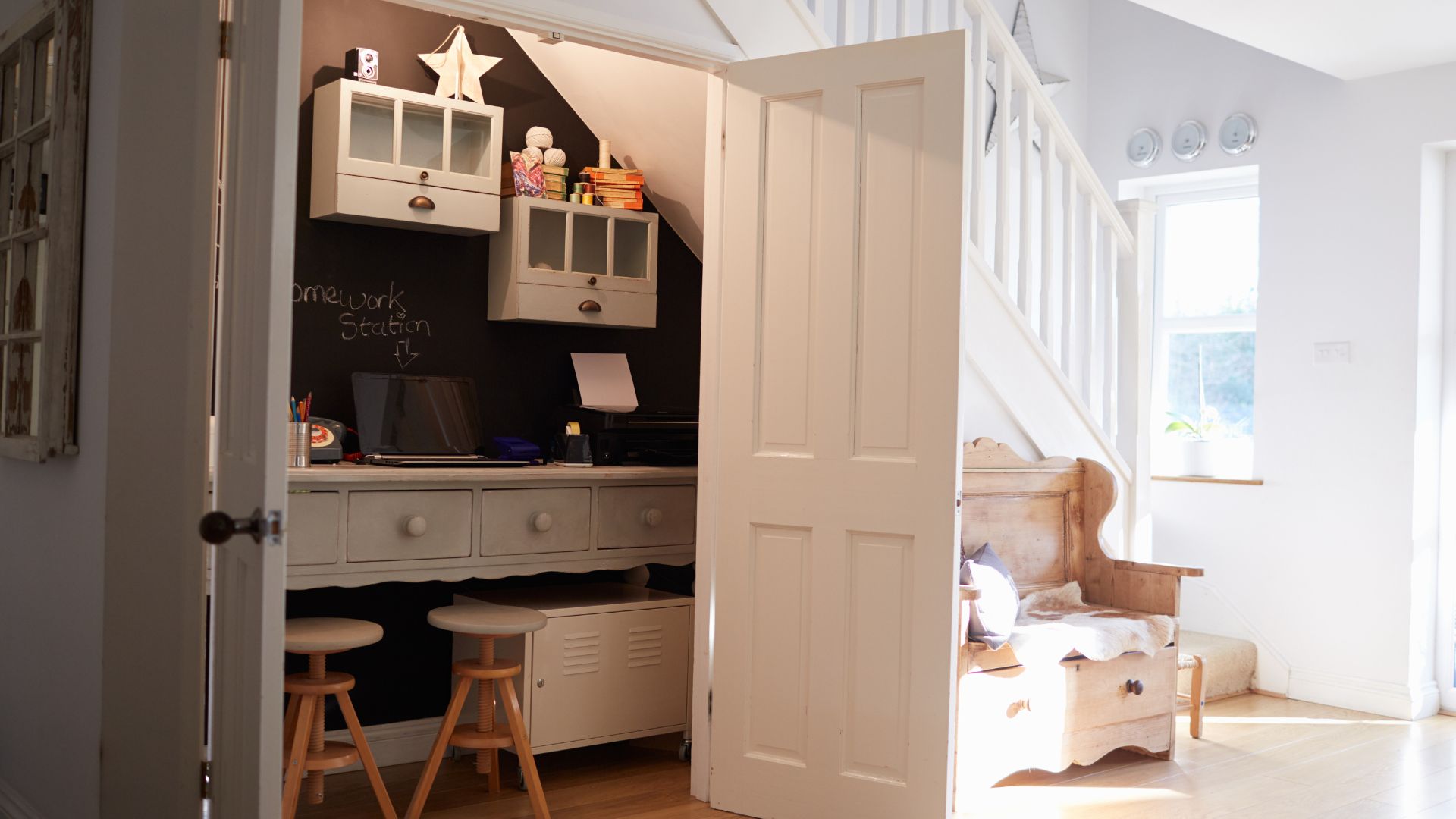 With the era of work-from-home now upon us, designating a quiet space can be a lifesaver. A small home office under your stairs offers a productive atmosphere where you can comfortably work without interruption. We recommend wood finishes and plants to solidify a work space suited for you.
Professional Basement Remodeling Services in Falls Church, VA!
Monarch Design & Remodeling can convert that dark, musty space under the stairs into a place of comfort and creativity. Our basement remodeling contractors offer custom renovation services that fit the needs and wants of Falls Church, VA, homeowners. We work with clients to improve their homes while sticking to their budget and style. To get started on remodeling your basement or that space under your stairs, set up an appointment with us online or call us at (703) 789-3288 for your free consultation.