Mishaps and slip-ups are common occurrences during DIY bathroom renovations. Yet you can learn from others' mistakes as you consider redesigning your bathroom and thus save time, money, and energy. Request the help of our bathroom design experts to avoid problems that plague the purchasing, planning, and remodeling processes.
Monarch Design offers competitive rates while delivering the highest quality services throughout Chantilly, VA. Our founder and chief designer, Gina Simpson, has over 2 decades of experience in kitchen, bath, and whole-home design and construction services. She and her dedicated team guarantee Monarch will deliver projects that our customers love. Call (703) 789-3288 or visit our website today for all of your remodeling needs.
Below, we examine the most common mistakes people make when remodeling their bathroom:
Switching Things Around Unnecessarily
If you decide to renovate an existing bathroom, consider its layout. In most cases, homeowners' existing bathroom layout will suit their renovated bathroom plans.
If you notice that multiple bathroom features need updating, however, remember that moving pipes can get expensive and create more problems than it solves. Consult with an expert about switching your bathroom's layout before you move forward with plans.
Buying the Wrong Shower Screen
Nobody likes a leaky shower screen! Make sure to measure and install your shower space and then purchase products that fit and seal it. If you don't, you might be cleaning a wet floor daily.
Monarch Design specializes in bathroom remodeling. We can help you select from numerous high-quality options to reduce standing water or mold and mildew buildup.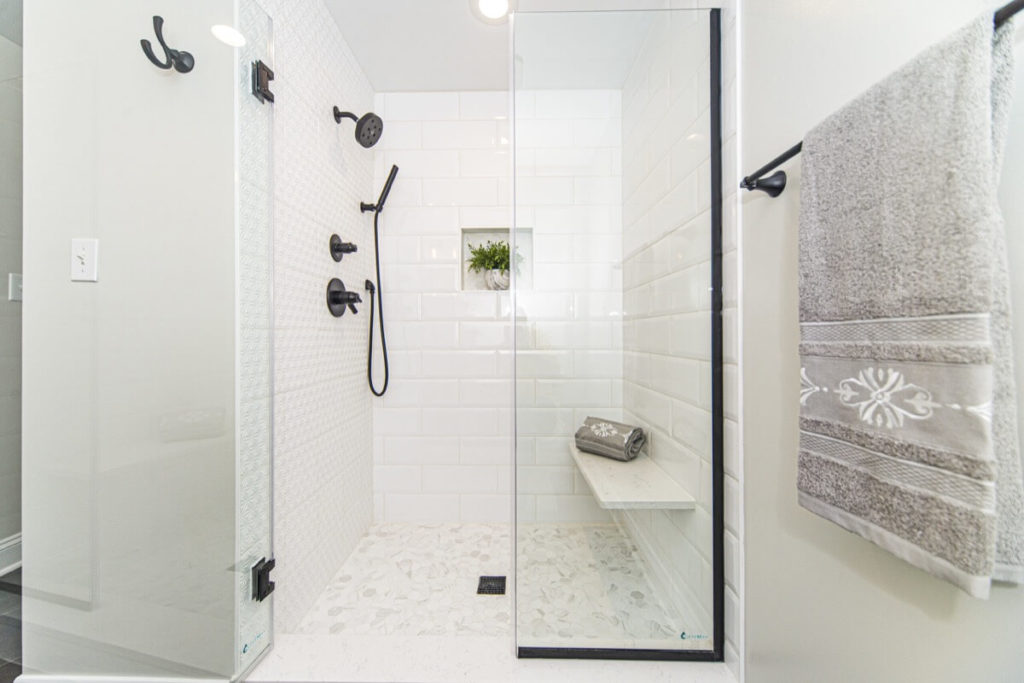 Not Treating Wood Finishes
High-quality wood finishes look luxurious. But before you hop on the latest trend and get the newest wood finish, ensure it properly treats and protects against excessive humidity and moisture. Although onset wood rot can create significant problems, you can prevent it with an effective finish.
Miscalculating Delivery Times
No worse scenario exists than having builders ready to go with your project yet lacking the necessary materials: sanitaryware, tiles, fittings, etc. When you hire with Monarch Design, however, we ensure that your lead times for all items are ready to go well in advance and place your orders accordingly. We also help you avoid fees for a bathroom contractor to stand and wait for materials to arrive.
Lazy Layouts
Function always comes before form, especially if you have a small bathroom space. Ensure you leave enough room between appliances and sanitaryware for people to move around without bumping into them.

Include at least 60 cm between the toilet and anything in front of it. You must be able to open cabinets without them hitting anything. Planning makes perfect!
Ignoring Wall Space
While often overlooked, wall space factors into every bathroom design. It can serve as a place for storage, a chic cutout, or a statement piece. A cutout alcove is a perfect place to put stylish toiletries, towels, or even bathroom plants. Although most people will pay no attention to it, the alcove will make your bathroom stand out while furnishing the comfort you desire.
Forgetting to Futureproof
If you live in your "forever home," think about the future as you map out your design. Making sure that your bathroom is safe and functional, especially for seniors, will save you a lot of money in the long run. Common aging-in-place bathroom features include:
No-slip surfaces

Grab handles

Walk-in showers
Nevertheless, you can always add such features later if you aren't necessarily ready for such updates yet.
Not Including Enough Storage
Many small items—such as toiletries and toilet paper—common to bathrooms require additional space. So, leave enough room in your bathroom for this storage, whether it be visible or hidden away. You shouldn't have to stack your toilet paper on the floor! A few built-in storage alternatives for your bathroom include:
Shelving

Cupboards

Drawers
Leaving out Counter Space
While clutter looks disorganized and unsightly, it also prevents bathroom users from setting down their phone or keys. Even a little counter space goes a long way! To facilitate everyone's comfort, incorporate extra counter space.
Being Too Cautious
A difference exists between caution and outright fear of making changes to your bathroom. Change can be scary, but don't hesitate to add character to your bathroom.
A contracting team can help you do so by removing drywall or a false ceiling and expanding up into the rafters. They might install a walk-in shower instead of a bath. Such changes not only make your bathroom more unique but also increase its space and add value to your home. Who doesn't love that?
Your Go-To Bathroom Design and Project Team: Monarch Design in Chantilly, VA!
Our specialty here at Monarch Design? Creating custom bathroom designs that align with your unique needs. Our team is dedicated to fulfilling your design and remodeling dreams with our decades of experience, commitment to excellence, and knowledge of all things design. Make sure to reach out to us if you are in the Chantilly, VA, area and are ready for our team to transform your living space at (703) 789-3288 or fill out our contact form.