Before putting your house on the market, consider what renovation work could help sell it at the highest possible value. Take stock of your home improvement project options—bathroom, kitchen, family room, master suite, bedroom, and home office—as well as the cost of each. If you decide on a kitchen remodel, invest in a professional kitchen renovation company to reap the largest reward in home value.
Monarch Design & Remodeling's team seeks to provide home renovations that suit our Fairfax, VA, clients' tastes and lifestyles. We bring clients' visions to life through our signature process, taking care to incorporate their design preferences. Call us at (703) 789-3288 and receive a free consultation today!
Below, we describe the renovation projects with the greatest ROI: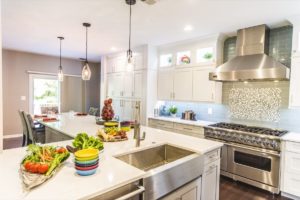 Bathroom Renovation
A bathroom remodel increases your home's value by improving the space's functionality and the utilities' efficiency. For instance, replacing old plumbing fixtures with energy-efficient alternatives and swapping out bathtubs with standing showers can save space and reduce utility bills.
Long-term, this project helps homeowners save money, reduce clutter, and improve sustainability.
Small or Full-Scale Kitchen Remodel
Often referred to as "the heart of the home," kitchens tend to be one of the busiest rooms in a house. So, a small or full-scale kitchen remodel represents a worthy investment. Kitchen customization can help the space better support your lifestyle and home atmosphere.

Your renovation may include energy-efficient appliances, recyclable floorings, mixed and matched cabinets, backsplash art, and more. Our kitchen portfolio contains diverse designs that may serve as great inspiration!
Family Room Renovation
Compared to other rooms, family rooms fail to receive the same consideration as a viable contender for updates. Nevertheless, homeowners who do renovate family rooms do so to increase these spaces' style and comfort.

Help your house stand out by adding space, storage, and detail to your family room. If your project revolves around aging in place, our team can help you find solutions that align with your lifestyle and particular habits.
Master Suite or Attic Bedroom Addition
Master bedroom and bathroom additions increase both your home's available space and value. Specifically, adding a master suite to a home averages a 63% return on investment. If you plan to live in your home for several years before selling it, that master suite can still serve as a wonderful lifestyle upgrade.

Additionally, multi-generational living's growth in popularity makes adding an attic bedroom a viable option. Doing so increases not only your home's square footage but also your property's value.
Home Office Remodel
With the rise of remote and hybrid work models, adults may now work from home where—compared to traditional in-office jobs—they enjoy fewer interruptions, no commute, and more family time. Plus, working from home allows one to save money for a renovation.
Take advantage of this windfall by customizing your home office to increase your productivity. Popular home office features include bookcase walls, windows or skylights, recessed and accent lighting, and more.
Discover High-Quality Kitchen Renovation Services in Fairfax, VA
From kitchen renovation design to bathroom remodeling and more, Monarch Design & Remodeling will handle your Fairfax, VA, home improvement project. We'll help you explore options by providing our knowledge and developing a clear plan for your project. Our team's expertise will help you transform your space into your dream home. Schedule your free consultation at (703) 789-3288 today.